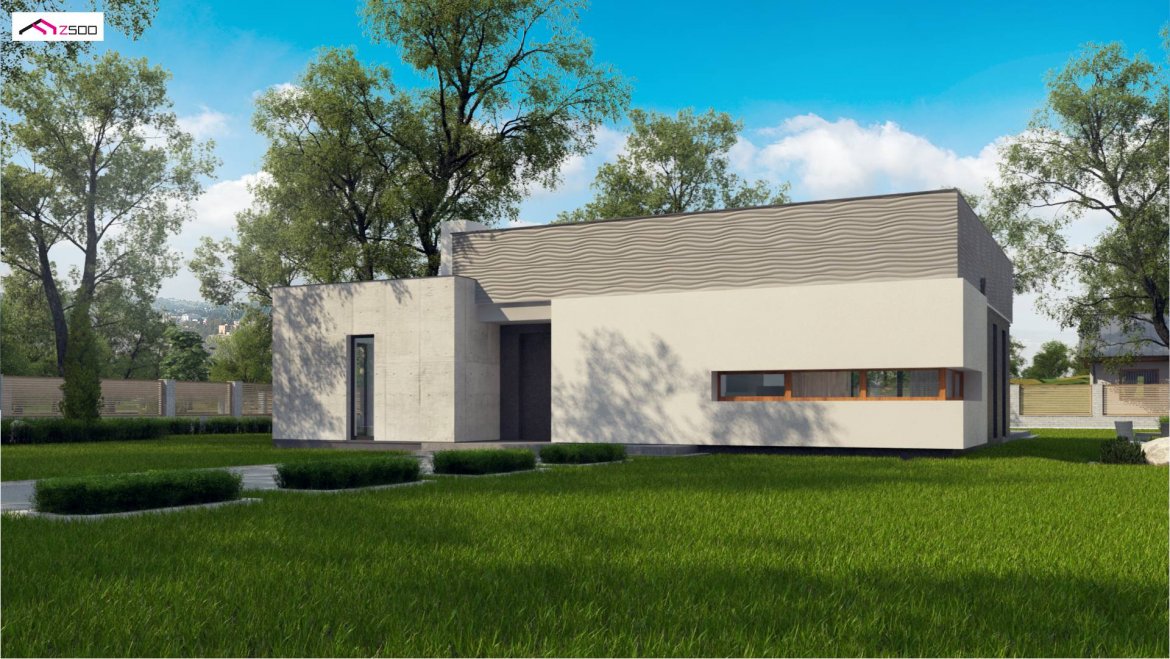 HOUSE DESIGN WITH AN ATTIC ZX56 BG, PDJ -9405
DESCRIPTION
Zx56 bg is a one-story house with a flat roof, without a garage. It differs from the Zx 56 design. It stands out from other designs by a combination of one-colored, simple cubic solids.
The living part of the house consists of a spacious living room combined with a dining room, pantry and kitchen, which can be built up so that the smells of prepared dishes do not get into the living room.
On the left side of the living room, the architect placed a toilet so that guests visiting us do not have to use the bathroom located in the night part of the house. Thanks to this, no one will see our personal belongings while making social visits.
In the night part of the house there are three bedrooms, two of which can be children's rooms. The largest room, on the other hand, has a separate bathroom and wardrobe, of which the lady of the house will no doubt be satisfied.
An additional advantage is the separate space for the laundry room and a large utility room, in which, apart from the furnace, will fit all the necessary household tools and equipment.
The Zx 56 bg project is a medium-sized house project, containing all the necessary and practical rooms. However, a simple, cubic, distinctive block will make that none of the invited guests will mistake our home for any neighboring …
TECHNICAL DATA
HOUSE DESIGN WITH AN ATTIC ZX56 BG, PDJ -9405
Usable floor area: 135.66 m²
Building area 195.20 m²
Cubature 396.60 m³
A depression angle of a roof 1.00 °
Roof area: 148.86 m²
Building height 4.90 m
Min. Plot dimensions 21.67×23.65 m
Author Piotr Zwierzyński